Local Golf Courses
Desert Springs Golf Resort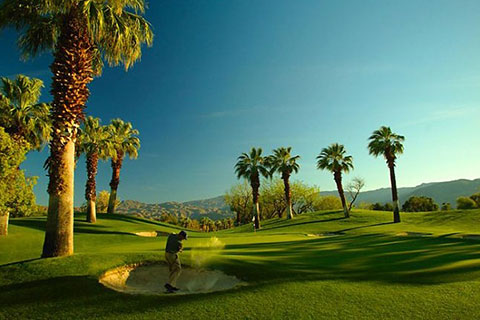 Regarded as one of the leading golf resorts in Europe with exclusive luxury homes set beside the emerald green fairways of a unique and stunning championship desert golf course. In fact Desert Springs golf course is Europe's only world class championship desert golf course.
The stunning, 72 par, USGA specification championship desert course provides a unique golfing experience. What's more its Golf Academy has unsurpassed facilities to help golfers to improve all aspects of their game; after all this was the Overseas Home of The English Golf Union and is the current home of the Welsh Ladies Golf Union.
Set high on a plateau with panoramic views over the Almanzora valley towards the Mediterranean and surrounding mountains, there is something quite rare and special about the light and ambience of the perfectly maintained desert parkland, the largest rock and cactus garden in Europe... it has an all but surreal sense of beauty, serenity and quality of life and service.
El Cortijo Grande Golf Resort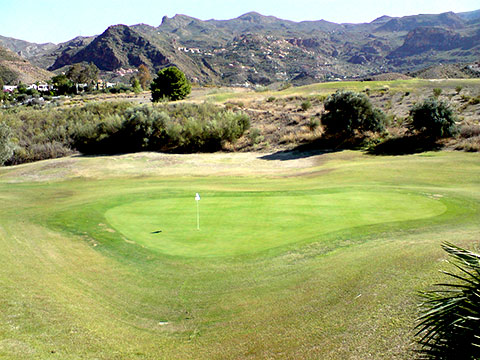 In the heart of a province claming the only desert in Europe, El Cortijo Grande has become deservedly famous for its verdant landscape and profuse vegetation. Here the surrounding desert gives way to the lushness of the golf course which is at the foothills of Sierra Cabrera, just outside the village of Turre and a few minutes drive from Mojacar Playa is El Cortijo Grande Golf Resort.
The valley of Cortijo Grande flanked by mountains that rise to almost 1,000 meters above sea level, is an ancient oasis in the traditionally arid region of Almería. The golf course first opened in 1976 and the current 9-hole par 36 golf course offers a majestic backdrop of orange groves, almond, fig and olive trees. Watered from an underground volcanic lake, the valley has been an agricultural paradise for centuries.
Playa Macenas Beach & Golf Resort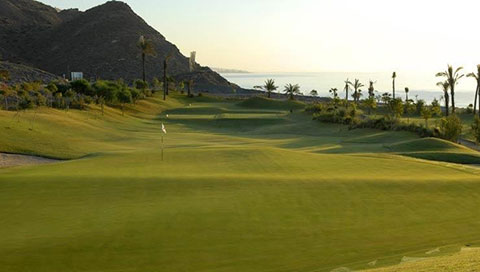 Playa Macenas Beach & Golf Resort has been designed using an integrated approach, with a clear commitment to respecting nature and the surroundings. To this end, the latest construction methods and sound environmental protection measures have been used, taking into consideration the fact that the neighbouring Cabo de Gata Natural Park was declared a UNESCO Biosphere Reserve in 1997
The Golf Course
A marvellous golf course with sea and mountains views. The golf course at Playa Macenas Beach & Golf Resort has been designed to be the backbone of the whole development.
Just like a huge verdant garden, homes, facilities and services are set out tastefully beside the course, creating an extraordinarily beautiful landscape right by the sea. With its indigenous species of vegetation and the green of its fairways and greens the course seems like a visual continuation of the gardens.
The course has been designed to challenge and reward golfers of all levels and boasts an original design, with natural and man-made hazards that provide an added challenge to each round. The sea views are yet another attraction, making for an unforgettable golfing experience.
Hole by Hole Guide
Every hole at Playa Macenas golf course requires the utmost concentration. Good shot-making will be rewarded but challenging greens, numerous bunkers, grassy mounds, two lakes, strategically located copses and newly planted shrubs lie in wait to punish wayward shots.
Each hole has its own particular features and challenges, with varying levels of difficulty.
Holes have been designed to offer an extremely varied range of shots and playing strategies, as well as views across the course and beautiful surroundings.
Valle del Este Golf Resort
An Oasis in the Desert of Almería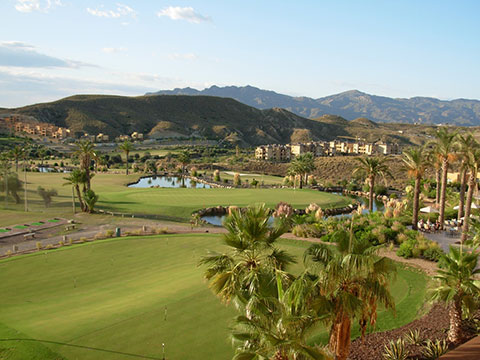 Is it a tough course? With wide fairways, large, receptive greens and 5,720 metres from the competition tees, it would not really seem to be. The strategic positions of the tees and the obstacles in the landing areas, however, make each hole a real challenge, whatever your level of play.
The landscape, the desert of Almeria with occasional glimpses of the Mediterranean and the folds of the terrain make it a visual marvel.
The small, circular, elevated tees and the desert which needs to be cleared at each hole make every pin a challenge.
The fairways on some holes may remind you of some Arizona's finest courses, but with the singularity of the local vegetation. There are also strategically-located water hazards to stretch players to the limits of their resources.
The greens, fast and clear thanks to their size, boast a wide range of flag positions, with differences of up to 4 clubs.
Good players can reach the 3 par-5s on this 71-par course in two good shots, but remember that mistakes cost dear on this course. Beginners and average players should have no trouble reaching the green in 3 or 4 shots.
The 4 par-3s are totally different. Hole 2 is a long hole with a small rise and very generous green which calls for the best long iron or fairway wood. Holes 6 and 14 should not present any great trouble with a medium-short iron.
The one to command at Valle del Este is hole 12. With just 152 metres from the rear tees or 138 from men's, the distance is not really a big problem, but the river crossing it sure is! The views, the two small rear bunkers, clearing it all, simply one of the best par-3s in Spain.
There are no 440-metre par-4s at this course, but you will not miss them. Tee positions are everything. Less aggressive play from the tee normally brings its reward.
Hole 3, for example, a fantastic 345-metre par-4 which forces you to think right from the tee. A fairway surrounded by water with several landing areas and a spectacular green protected by a waterfall running down its right-hand side, which needs to be cleared.
The unbeatable weather, which means you can play in light clothing all year round, and the state of the course, thanks to fantastic maintenance, make Valle del Este an unforgettable experience.
Marina Golf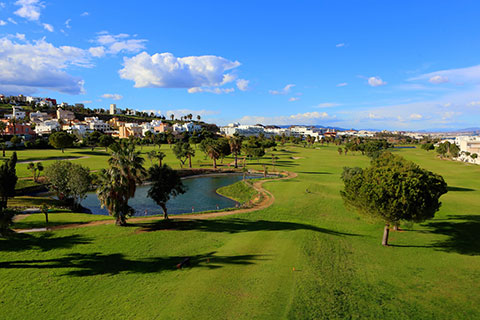 Designed by Ramón Espinosa, this golf course first opened in the Spring of 2000 and it then opened up the eastern Almería region to Andalucía´s ongoing golf/tourism boom. Marina Golf covers 5,464 metres and has two distinct halves. The first, holes 1, 2 and 12 to 18 running parallel to the sea is flat and forgiving while the other half, holes 3 to 11, takes a detour behind a hill and follows more undulating terrain. There are three large lakes affecting ten holes. Spectacular views await the golfer on the 3rd tee with the par-5 hole dropping dramatically 65 metres towards a lake and green some 485 metres distant.