All About Veritas Homes Property Group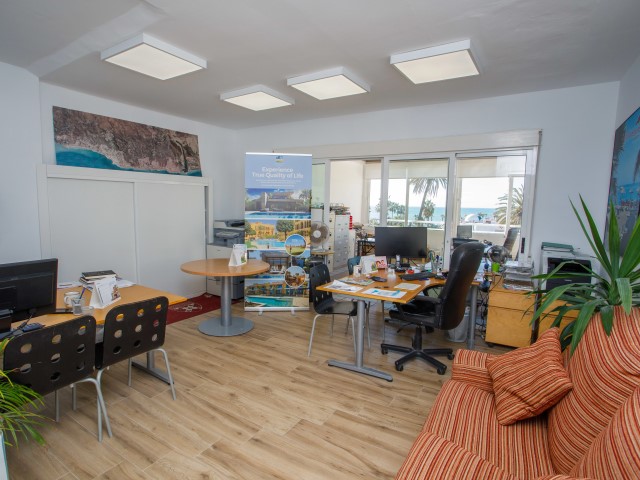 Veritas Homes Property Group, Mojacar Playa's premier real estate company, is the Spanish property specialist in the Costa de Almeria region which specialises in sales of quality, well priced properties in Mojácar Playa and surrounding areas including inland. We can also offer quality properties in the Costa Cálida region.
We are a fully registered company operating from a strategically located office right on Mojácar Playa's Paseo del Mediterráneo by La Paratá roundabout between the Pueblo Indalo and Hotel Indalo. Currently our company employs staff from 3 nationalities and between us we are fluent not just in English and Spanish but also in French, Italian and Portuguese. As it should not be any different, we comply with all the laws regulating property transactions in Spain. Additionally we have developed a strict code of practice within our company as we believe that transparency goes hand in hand with sound and unbiased advice.
We believe that our down to earth approach based on trust only enriches our experience whilst at the same time safeguards the interests of both vendors and purchasers alike. All vendors wishing us to market their properties must provide all the documentation required by law and it doesn't stop there as these documents are thoroughly checked and the relevant searches are carried out prior to us agreeing to take their property on as per the Real Decree 218. Only once we are satisfied that the property can be legally sold we will then list it on our books.
Another important part of our process and transparency is that we only take a reservation deposit from a purchaser once both vendor and purchaser agrees to the deal in principle. Any reservation funds received will be subject to contract and the lawyer representing the purchaser will be supplied with all the relevant information and documentation required by law so that further searches are made, contracts are agreed and exchanged. We do not apply any pressure selling techniques. Instead, we draw on our superior service based on experience and attention to detail to help our clients to make an informed decision. If we tell a client that he/she should act quickly, which sometimes we do, it is because there is indeed another party interested in that same property. It is then up to the client to decide for themselves whether or not to make up their mind quickly. Quite rightly, here in Spain it is always the client that commits to the property first i.e. pays a reservation deposit that will have the preference. Our end aim is to provide both vendors and purchasers a superior service and ensure that both have a positive experience so that they can continue to recommend our services to their family and friends.
In brief, Veritas Homes Property Group is a well established, forward thinking and professional real estate company that is determined to bring sellers and purchasers together and help them realise their objectives of selling and buying. Our team has a wealth of local knowledge and experience. We have a very wide variety of competitively priced, quality resale and new properties o­n our books in Mojacar Playa, Mojacar Pueblo, Marina de la Torre, Playa Macenas Beach and Golf Resort, Cabo de Gata, Turre, Cortijo Grande, Cabrera, Agua Nueva, Los Gallardos, Huerta Nueva, Bedar, Lubrin, Garrucha, Vera Playa, Vera, Valle del Este Golf Resort, Desert Springs Golf Resort, Cuevas del Almanzora, San Juan de los Terreros, Pulpi, Arboleas, Albox and so on. Whether they are vendors or purchasers, all our clients can be sure that they will have sound and unbiased advice. At Veritas Homes Property Group we are passionate about what we do and for that reason we are always open, honest and eager to give advice and help to answer any questions from a position of knowledge and experience. We want our clients to become our friends and the testimonials that we get from previous clients prove that our aim is being achieved in full. We speak a range of languages including English, Spanish, Portuguese, Italian and French. If you are considering selling or purchasing in the Spanish regions of Almeria and Murcia and want straightforward, honest advice then please contact us. We look forward to helping you.
The Veritas Homes Property Group Team